OK, I must share an important member of our family..Shane! he is undoubtedly the BEST cat I have ever owned (although I have loved all three of our others, Burbank, Malibu, and Hollywood)!! He is patient, kind, and loving with our kids and they manhandle him like you would not believe. I'm afraid the hustle bustle of our new addition has left him feeling very unappreciated and you can see he is making himself known to me in my office. He constantly lays on my desk, knocking papers, pictures, you name it onto the floor. All he really wants is a good 'head scratch' by his Momma. The Font & "Associates" rings true while I try to work amidst the cat hair all over my desk and laptop (which can't be good for the laptop)..sigh...the little things in life. I will admit that taking the time to hold him, pet him, scratch his head is very calming. Another small example of God's creation and the fact that even all created things have purpose. All too often I don't take the time to think about why God created cats with such appeal to me (I recognize not all people are cat lovers, so forgive me) and today I appreciate the reminder from our furry family member. Yes, that IS a Gymboree coupon and a GAP coupon amidst the papers....you all know how much I enjoy shopping for the kids clothes and I LOVE a sale!!!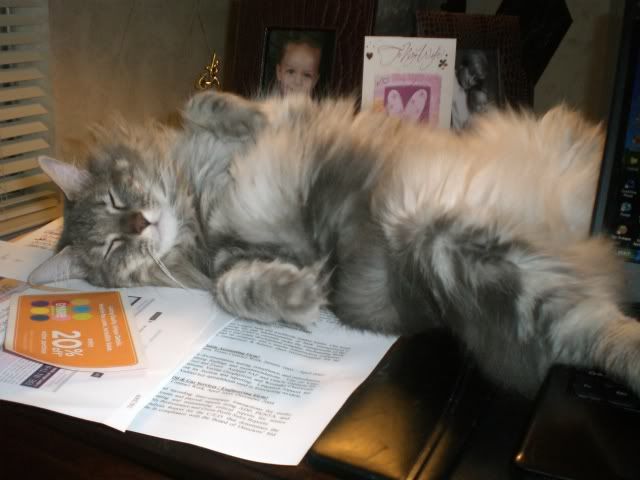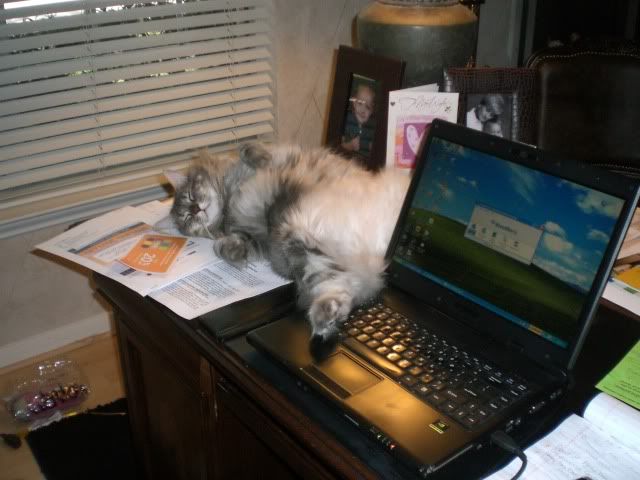 quick shift of topics...went to see the girls "hip hop" performance at kids college today and ran into Parker's Cardiologist. Met her husband as well. Can I say she is as wonderful in a social setting as she is in a professional setting. While I don't know her well yet, I saw her as a loving wife and mother, not just a physician. Just makes me feel even better about Parker's care and the fact that all of these Dr's, teachers, friends, family,etc.. were divinely predestined as much as the way Parker was formed. Off to referee "download play" between two children before the DS games get torn into two. Be blessed!
Psalm 139:14
I praise you because I am fearfully and wonderfully made; your works are wonderful, I know that full well.