and this year I am ahead of the game (sort of)...October is National Down Syndrome Awareness month, so I am joining with my other DS bloggers..the goal is to post everyday in October...this should prove to be interesting seeing I can barely post once a week..not that I lack in things to say, just the time to say them these days..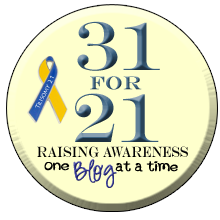 Grab This Button
Commit to blogging in your blog everyday for the month of October (which is Down syndrome Awareness Month).
And then...um...blog in your blog everyday for the month of October!
You can choose to write about life with DS or...not. It's up to you. But if you at least mention the challenge and start writing EVERYDAY it's bound to go NOTICED. Personally, I find that I go back and forth, sometimes I write about DS because hey, it's a part of our life, and sometimes I don't, because hey, guess what? It's just a part of our life!
Here's step 4: Grab the button (by clicking the link that says "Grab this Button above") designed by the lovely RK so people will recognize that we're doing something here! Power in numbers, baby! The button''ll link back to this post and hopefully more people will sign up to participate in the challenge!
See you in October!